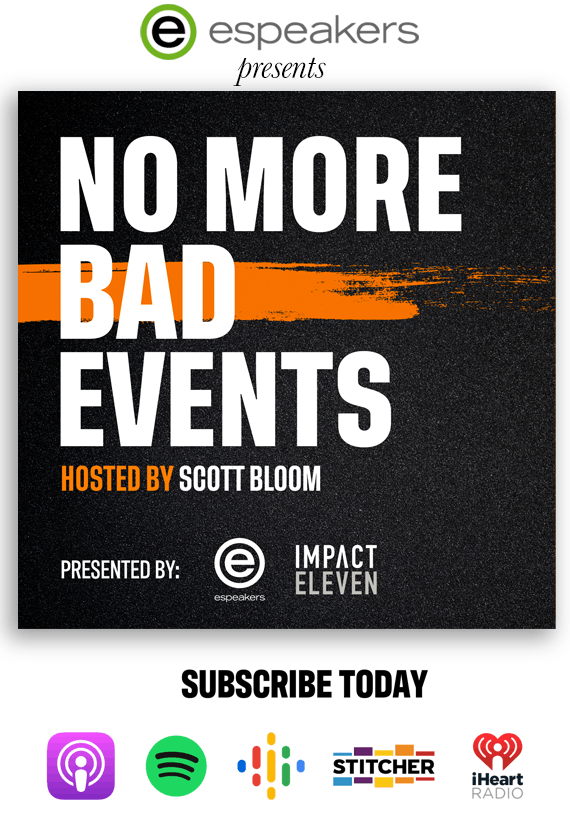 No More Bad Events, is a podcast that event organizers will find insightful, funny, and downright useful. Executing great events is complicated, stressful, and hard, so don't miss this great free resource for meeting professionals, no matter your experience level or the number of events you've planned.
Our podcast host, Scott Bloom, interviews some of the top performers in the meetings game. Marquee names like On each episode, host Scott Bloom interviews top performers in the meetings game. Marquee names like Michael Cerbelli, Sherri Wiseman, Erica Spoor, Danene Dustin, Michael Dominguez, and Daileah El Grazzar join Scott for can't-miss episodes.
What can you expect? Each episode provides key insights to ensure your next event is met with rave reviews and resounding success:
An inside look into the world of flawless event execution, from locking in tech vendors to booking high-impact speakers to ensuring the cocktail hour goes off without a hitch
Proven event planning strategies, inside secrets, non-traditional approaches, and must-have tactics as shared by legendary event organizers and contributors
Unique and compelling stories from the most captivating personalities in the meetings game
Check out our first episode here, and subscribe to No More Bad Events on Apple Podcasts, Spotify, Google Podcasts, or wherever you listen to your favorite shows.